Tero has always been very active and had many projects and activities on the go. He studied economy in high school, but after his studies he chose to work within something more physical and was employed as a mover.  He was very happy and felt that this was the right job for him. Thereafter, his interest in the construction industry grew, and he continued his professional career as a carpenter for some years and was later promoted to working on larger construction projects.
"I worked a lot and enjoyed it. I kept having to use my body to feel good. After a few years, I wanted to study civil engineering within construction. I applied for the course in 2010 and was accepted due to my experience, but unfortunately the accident got in the way of my plans."
Tero and his wife had bought a new house with a large garden where their dog could run wild. The house was a bit out of town, the garden was big and they lived close to a lake. One summer evening they went down to the lake for an evening dip at the jetty, where they had swum so many times before.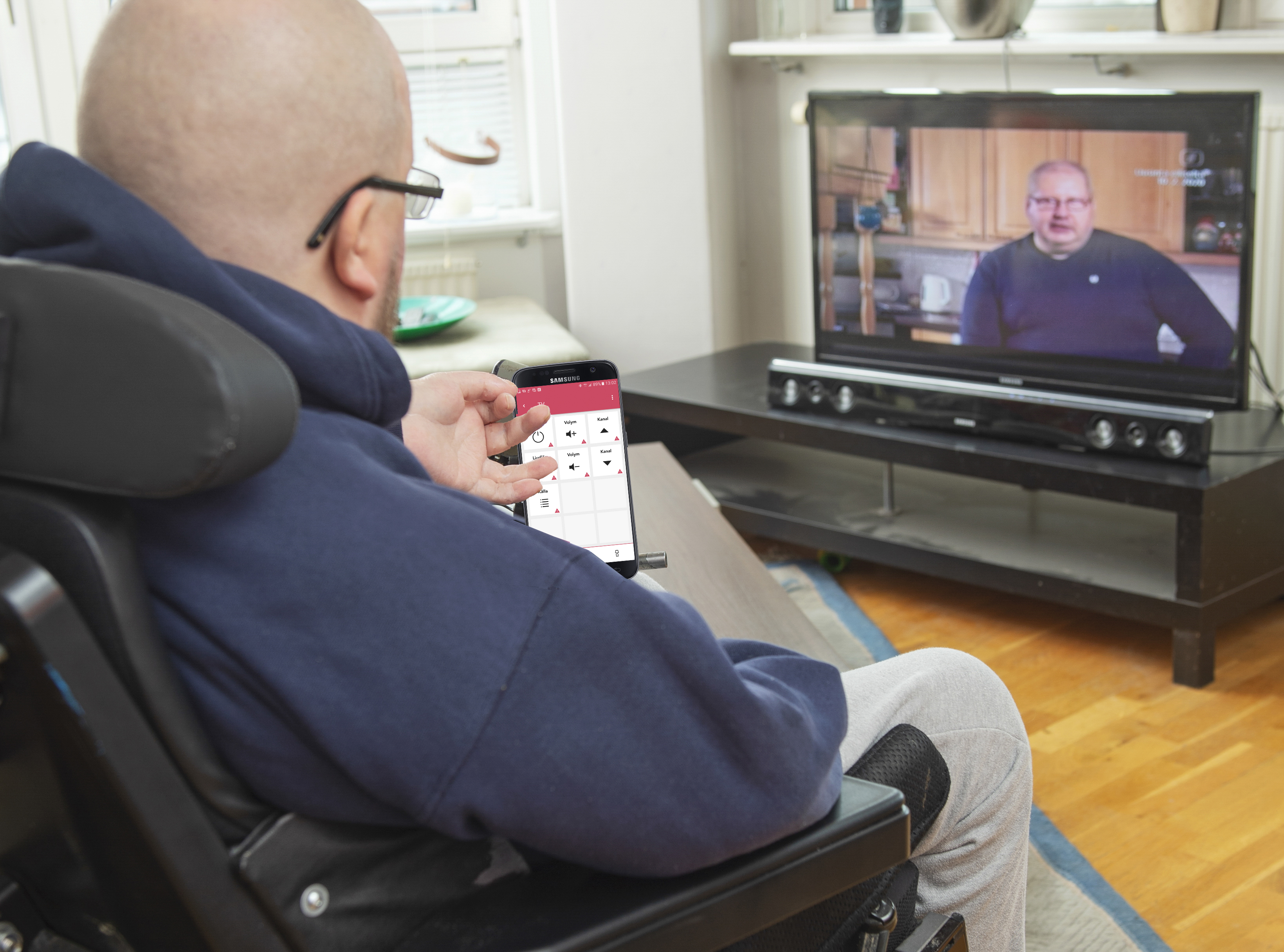 Tero tells of how he dived off the jetty, hit his head on the sandy bottom, and felt a pain in his back that shot up towards his neck. His girlfriend had also jumped into the water and quickly understood that something terrible had happened.
After 72 hours in the hospital, Tero woke up finding himself with tubes connected to machines and was told the news about his serious neck injury.
"I was in hospital and rehab for six months, and my days were filled with occupational therapy and physiotherapy. My C4 neck vertebra had been seriously injured, which paralysed me from the chest downwards, larger parts of my arms were paralysed, and I was completed paralysed in my hands."
Now, Tero lives in a large apartment in a centre a bit outside of Stockholm. Besides his electric wheelchair, he uses Abilia's assistive technology: GEWA Connect, relay-box Andromeda socket, and the door-opener Duo Com.

 

"This is exactly what I need", says Tero. "Using GEWA connect, I can do things myself, like opening the door from the living room when I have a visitor, and staying in contact with work colleagues and friends via the phone feature that exists in GEWA Connect. I can open all the doors to get in and out of my home; the front door, the elevator door and the outside door."

 

 
Tero works a lot from home within an organisation that he is partially responsible for. Using the computer, that he controls with a so-called lipstick, which enables him to write documents and emails.
Six months ago, Tero started his own company together with a colleague, in which Tero is in charge of accounting.

 

"Yes, I like juggling many balls and working on different projects at once. Of course, it takes a little longer for me to, for example, write an email, but I'm in no hurry", Tero says and laughs.

 

 
One of Tero's interests is sport, especially football. In his spare time, he often attends matches together with his friends, and watches his favourite team play.
One of his friends lives in California, and Tero has been there to visit many times. His last trip was three years ago. "Yes, traveling goes well, despite all the equipment and aids that I need. I even have my assistants who travel with me and help."
Tero has been using Abilia's assistive technology since the accident, and this has made him more independent in his everyday life, and less dependent on other people. In the beginning, he used Abilia's Control Omni, but has been using GEWA Connect for some time now. GEWA Connect is a modern environmental control, with which he can even surf the net and use all the features on his smartphones as usual. Because Tero has limited movement in his hands, he uses the scanner feature of GEWA Connect together with a switch. It´s a button connected to the controller, and he can use that to control his environment and telephone conversations, as well as other Android features.
"GEWA Connect facilitates a lot of my everyday life, and finally I can use a smartphone with all its advantages without any challenges", Tero says in conclusion.