Welfare technology can help elderly people with cognitive impairment to retain a sound circadian rhythm with a good night's sleep and activities that give energy during the day – and hence avoid increased stress and to maintain well-being.
The population of today consists of an increasing proportion of older people and challenges created by cognitive impairment become more common as we live longer. For most people, quality of life is better when living in one's own well known and secure home environment for as long it is possible, taking both practical and medical reasons into consideration.
By using assistive technology that supports people with for example failing memory and with difficulties with daily routine, it is possible to stay at home longer. And even when it has come to the point that it is no longer possible to remain at home but instead move to a nursing home/assistive living, assistive tools can give security in a new and unfamiliar living environment. With early support and access to the right assistive tool at the right time it will be more sustainable for both individuals and for society.
Abilia recently launched the user-friendly calendar clock CARY Base, an assistive tool supporting people to remain independent with their daily routines. CARY Base shows information regarding date, time, and if its morning, daytime, evening, or night. With a press on the screen the information will be read out loud. Today's activities and appointments can be shown on the screen and spoken reminders can be set for desired times. Through the cloud-based service myAbilia, relatives or care givers can keep the calendar updated and receive information regarding planned activities remotely.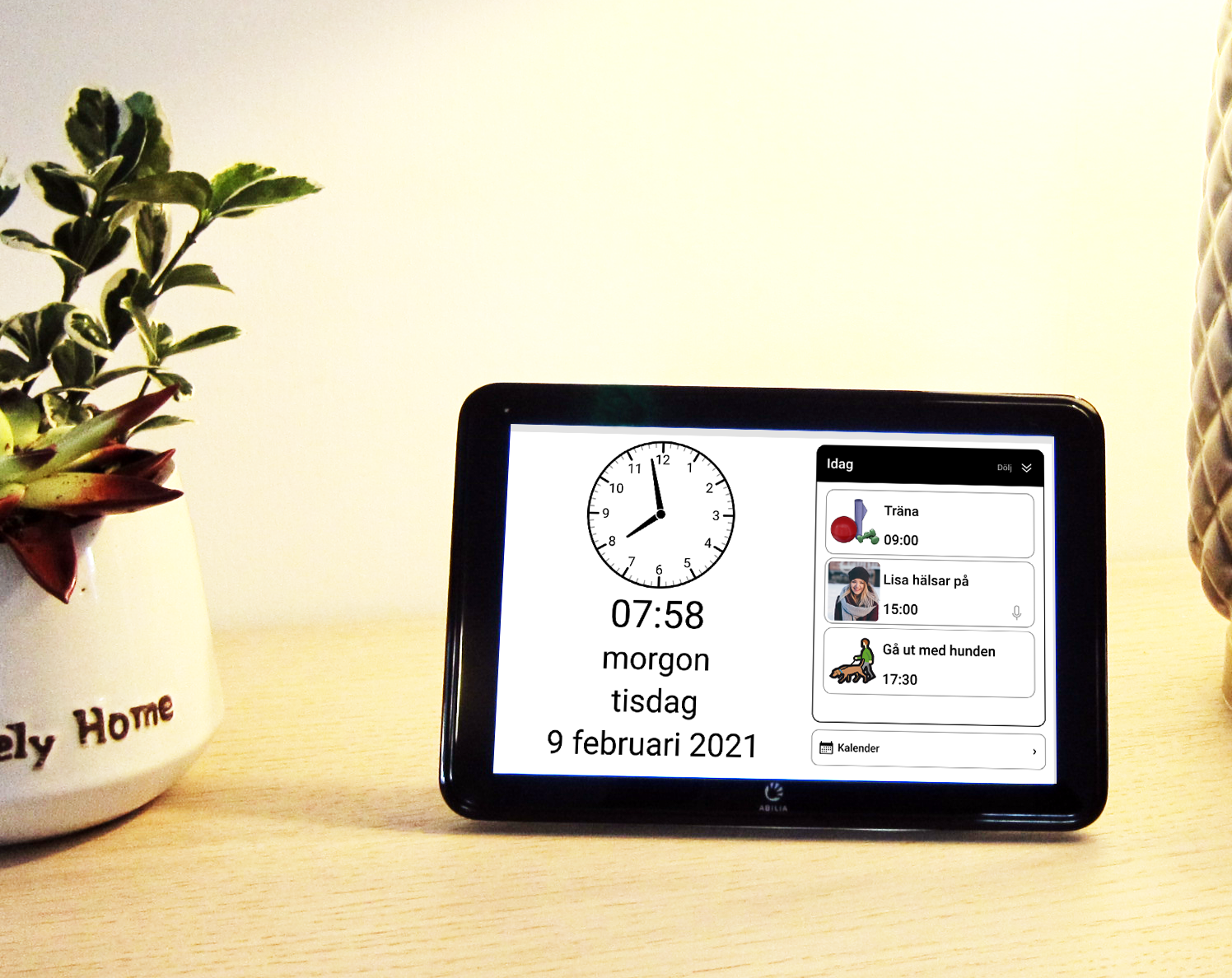 CARY Base is easy to install, to use, and to customize and is developed for people that previously had the ability to keep track of time and date, but now struggle with these abilities. For an occupational therapist prescribing assistive tools, installation and user friendliness are important parameters to ensure effective implementation of tools, not only for the individual but also from an operational perspective.
Cecilia Arthuis, responsible for Abilia's product management and product development, says "Abilia has many years of experience regarding prescribed products to support people with cognitive impairments. When welfare technology is working as its best, it contributes to increase people's independence, participation, and hence quality of life. CARY Base is a good example of welfare technology making life better for users, relatives, care givers and contributes to socio-economic gains".