Abilia's cognitive aids lead to behaviour change
Our assistive aids provide children with disabilities a supportive tool to handle the stress and anxiety of daily life, thus leading to increased confidence and independence and as a result, will change behaviour rather than treat symptoms.
Consistency is important for children with cognitive challenges. The heart of our cognitive aids is the Abilia 'Quarter hour' principle. The Quarter hour principle is an efficient method that helps children understand and relate to the concept of time. It is designed with the end-user's needs in mind and based on research evidence.
The choice of aid that is best suited to each child depends on the individual needs of the student, and what other tools are currently used at the school. Below is an image that provides an overview of the differences between the cognitive aids.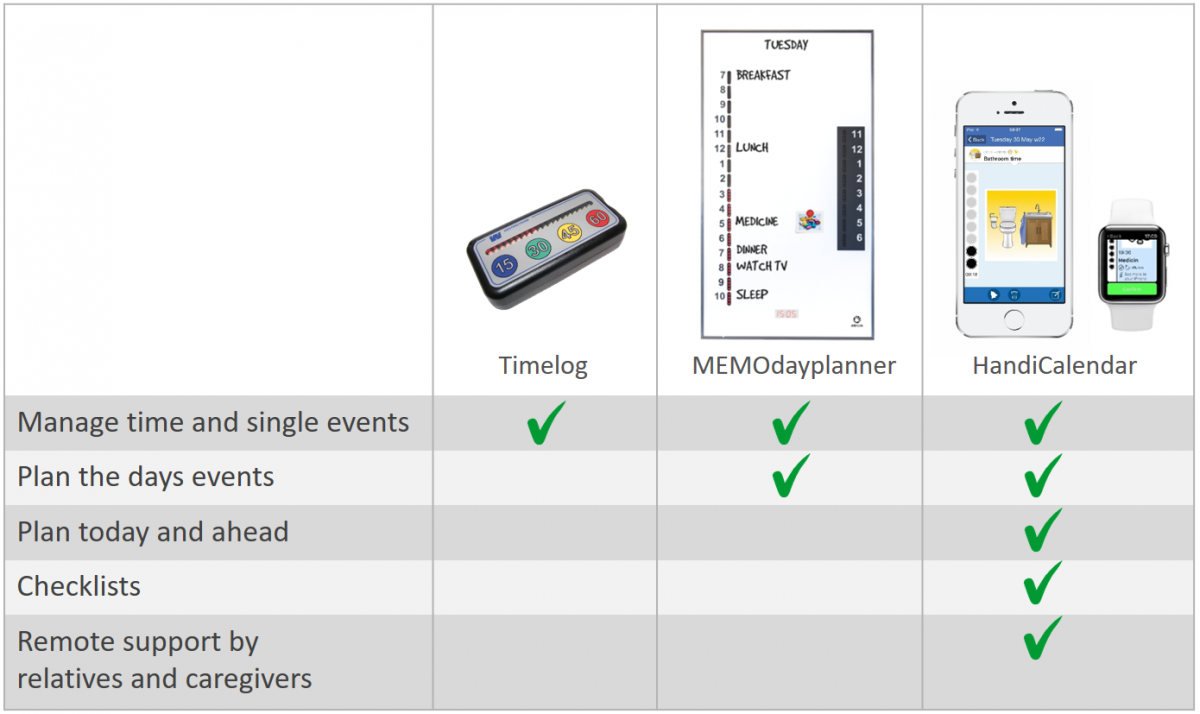 Time log
The Time Log is an assistive device for individuals who have trouble understanding the standard notions of time, estimating when a particular activity will occur, and estimating how long an activity will take. It is also for individuals who easily lose track of time while performing an activity. With the Time Log, you can learn to perceive time using clear LEDs that go out as time passes.
Detailed information about Time Log
MEMOdayplanner
MEMOdayplanner is a electronic and magnetic whiteboard that shows time in a concrete way, and how long it is to the next activity or task. A lit timeline, with one light going out for each quarter allows the user to easily see how much of the day has passed.
As the whiteboard is magnetic, it can be easily customised according to individual styles and requirements by the addition of text, images and symbols. An alarm with sound can be set to each point of light to alert the user to look at the board when something will happen.
Detailed information about MEMOdayplanner
HandiCalendar
HandiCalendar is an aid that helps you to know what needs to be done and ensures that you get started. Being able to perform various activities independently often leads to a greater sense of self-confidence.
The calendar gives you an overview of your day, week and month. You receive clear alarms when the activities begin and end. To each activity you can link additional information, such as a checklist or a phone number.
If you own an Apple Watch, you can also view your activities when your mobile phone is unavailable.
Detailed information about HandiCalendar

How to obtain cognitive aids from Abilia